Believe it or not if you are looking for some inspiration it's actually all around, from the rising sun to a placid lake on a cold winter.
In the world of sports, the stories that are usually hardest to believe are the ones that actually happened.

Here is a list of best sports movies based on true stories or events.
1
Rookie 2012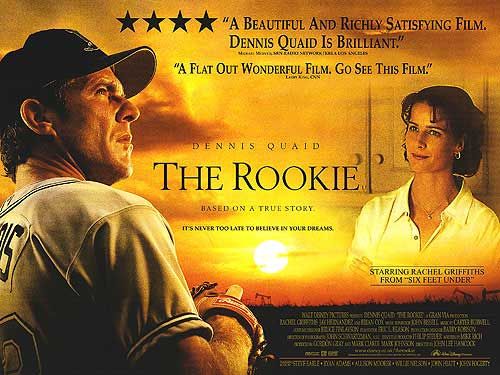 impawards.com
The 39 year old chemistry school teacher and baseball coach finds his dream coming true by making them qualify the play off by constant training and motivation. Walt Disney's "The Rookie" is based on the story of Jim Morris, a former minor league picher who made one of the most amazing comebacks in sports history, ending an almost 10 year retirement and making his Major League debut in 1999 at the age of 35.
2
42 - 2013
kadinimmutluyum.com
It's an inspirationally told biopic of an American sports icon, Jackie Robinson on how he broke the colour barrier in the Major league Baseball
3
Raging Bull - 1980
wordpress.com
Robert de Niro's performance in this film is truly amazing and the direction from Scorsese and the script from Paul Schrader are flawless. The fight scenes are the most brutal that you might have ever seen on film even though theres only like 12 minutes of them and the editing is simply brilliant.
4
Rush - 2013
cyberd.org
A great sporting rivalry between the handsome James hunt and his brilliant opponent Niki Lauda. These both drivers risk everything for their passion. It is set against the glamorous Formula 1 racing in the early 1970's
5
The Program - 2015
blogs.as.com
A battle between an Irish sports journalist and Lance Armstrong, regarding the latter's performances during the Tour de France victories and the usage of banned substances. With evidence and conviction, this totally changed Armstrong's life.
6
The Fighter 2010
1.bp.blogspot.com
The cast and crew have outdone themselves on. the best way to say it is simply outstanding. It not only told the story of "Irish" Micky Ward, Dickie Eklund and the family aspect but was a credit to the real internal and external struggle of never giving up.
7
Ali 2001
2.bp.blogspot.com
The life story of heavyweight boxing champion Muhammad Ali, following the champ's early days as Cassius Clay and his rise in sports and politics, including his controversial refusal to fight in the Vietnam War and his infamous comeback battles against Joe Frazier and George Foreman.
8
Rocky 1976
1.bp.blogspot.com
The incredible story of the most famous boxing stories of all time, Stallone's Rocky series was inspired by the real life of Chuck Wepner, the underdog who managed to get a shot at Ali before ending up fighting fairground freaks and bears.
9
Dangal 2016
mediagupshup.com
Dangal, is based on the life of one of India's finest woman wrestler, Geeta Phogat. This could be Aamir's best performance till date. Yes, even better than Lagaan. A man making his daughters chase his dream. He cries, frowns, gets angry, looks old and tired, but is definitely one of us.
10
McFarland USA 2015
cdn.elcapitantheatre.com
A struggling coach and a teacher, Jim White ends up as a trainer in one of the poorest country in America – McFarland. There he finds a bunch of untrained high school boys whom he trains and makes them one of the best country teams.
There are many more out there. Comment your favorite below
---