lassiekerweb.nl
Sure, like other cars they are not leviathan and they don't have ability of a super car. But still they have their own charisma. They don't need big room to park. They are fun to drive. Here are 11 cutest mini cars in the world.
1

The Messerschmitt, 1960
messynessychic.com
This is a three-wheeled bubble car designed by the aircraft engineer Fritz Fend and produced in the factory of the German aircraft manufacturer Messerschmitt.
2

1959 Autobianchi Bianchina 500
klassiekerweb.nl
This tiny and flashy car is produced by the Italian automaker Autobianchi, based on the Fiat 500.
3

1958 Fiat Marine "Eden Rock"
pinimg.com
This was actually a prototype with a a wooden-slat wraparound bench in the rear, making it perfect for weekend seaside breaks.
4

BMW Isetta, 1957
goodingco.com
It was the best microcar of its time when BMW joined the Italian Milan-based refrigerator company Iso Spa designed the "Isetta". Because of its looks it soon became known simply as the bubble car, a name later given to many other similar styled small vehicles. It is still the top-selling single cylinder car in the world, with sales of 161,728.
5

Vespa 400
hemmings.com
The Vespa 400 was an rear-engined microcar, produced by ACMA in Fourchambault, France, from 1957 to 1961 for the Italian Piaggio company. This two seater had room behind the seats for luggage or two small children.
6

Goggomobil, 1959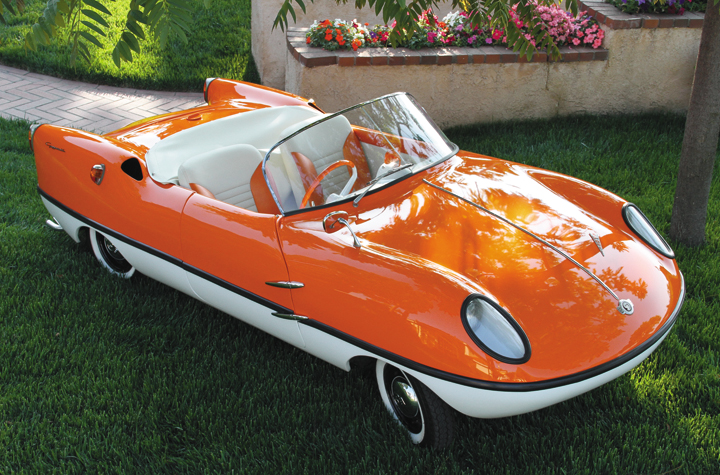 consumerguide.com
Less than 67,000 of these German microcars (it's just 10 feet long) were manufactured between 1957 and 1969. This is powered by a two-stroke, two-cylinder engine, manages a top speed of only 52 mph, and gets somewhere between 50 and 55 miles per gallon.
7

1960 Goggomobil T-300
microcarmuseum.com
The T300 was capable of a less than impressive 53mph top speed for anyone who dared.
8

Fiat 'Jolly'
woodwheels.com
This was very popular in Italian seaside resorts when a company called Ghia (now owned by Ford) specialized in making the converted 'Jolly' based on the Fiat 500, 600, Multipla and Giardiniera cars. These cars were originally made as toys for the famous and rich who would keep them on their large super yachts.
9

FIAT 600 Multipla
cloudfront.net
This classic picture from the past represents the Fiat "Multipla" minivan. It was actually used as a taxi in Italy but also as a family car in many parts of Europe. It reached a top speed of 57.1 mph (91.9 km/h) and accelerated from 0-50 mph it's top speed in 43.0 seconds. When released in 1956 the car cost £799 UK market equivalent to $1300.
10

Fuldamobil
wikimedia.org
The original vehicles had an aluminium paneled body fixed onto a wooden frame but as steel became easier to get hold of later versions featured an all steel body. The Fuldamobil's rear wheel was powered by a number of engines ranging from a 200cc up to a 360cc Sachs engine.
11

The Mini Mini
pinimg.com
Not the official Mini model but the Mini Mini became a trend amongst many Mini enthusiasts. It's a simple concept of taking a classic Mini then removing the roof, cut in 3 sections and then throw away the middle welding the back and front piece together.
We'd love to know your comments on this