southpawer.com
Donald Trump recently took some shots at our 'Black Rapper' Jay-Z when he threw some comments on him. Like everyone else, I lost my mind because Eminem has been going after Trump for over a year now and still, hasn't received a response whereas a single comment from Jay couldn't stop President's tweeting fingers to react. But, what can be the reason behind this? Is Trump afraid of Eminem?
The reason? Trump's voting base overlaps with Eminem's fan base, and many surmise Trump is hesitant in alienating the few supporters he has left. It probably also helps that Eminem is white. (For his part, Eminem has told fans to pick a side. "At the end of the day, if I did lose half my fan base, then so be it, because I feel like I stood up for what was right and I'm on the right side of this," he was quoted as saying this week.)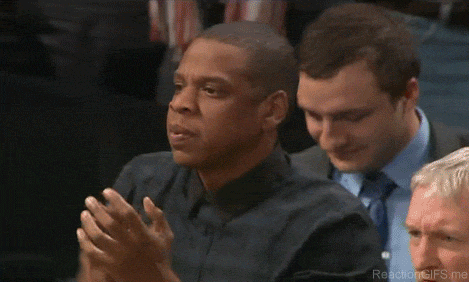 giphy.com
Compare this to Trump's response to JAY-Z, a black rapper, who appeared on Van Jones' CNN interview series on Friday night. JAY-Z, an actual self-made billionaire, didn't throw fifth-grade insults Trump's way. Instead, he gave the type of thoughtful, well-reasoned responses you'd expect from the leader of the free world. "It's disappointing and hurtful," JAY-Z responded when asked about Trump's recent comments referring to African countries as "shithole countries." Lets check what Slim Shady and Jay have said about the president.
amazonaws.com
The 45-year-old rapper took his first shots at Donald Trump in a vicious seven-minute track, Campaign Speech. Then, he collaborated with Big Sean for a track, No Favors in which he said, "Trump's a bitch." After hearing those two tracks, everyone in the world was awaiting a response from Donald Trump, but time passed and he didn't utter a single word. In the meantime, Eminem was ready to launch the third and the most dangerous attack on the President. When Trump didn't respond to Eminem's first two songs, he decided to make things more public by ripping him apart at the BET Awards via 'The Storm.' In the freestyle, he rapped, "Trump, when it comes to giving a shit you're as stingy as I am/ Except when it comes to having the balls to go against me, you hide 'em."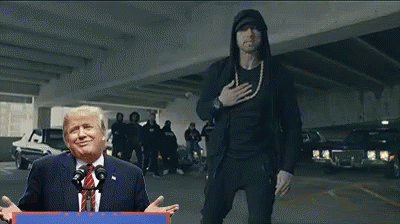 tenor.com
Slim Shady even attacked his fans who are Trump supporters. "And any fan of mine who's a supporter of his I'm drawing in the sand a line, you're either for or against/ And if you can't decide who you like more and you're split on who you should stand beside, I'll do it for you with this: Fuck you," he rapped.
And still, Trump chose to remain mum.
finder.com
We'd love to know your comments on this