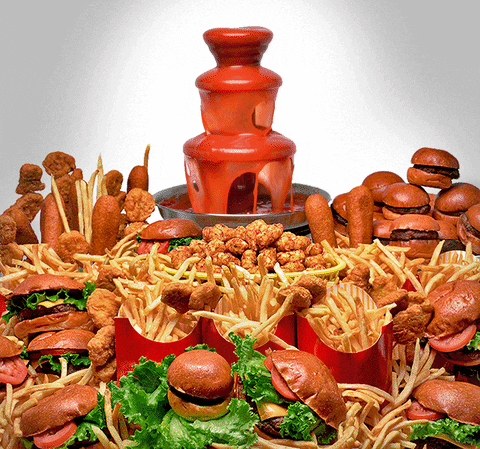 giphy.com
Water fountains often stand as great monuments honoring historic events or figures. Water becomes an artistic form of expression as it dances over sculptures and skylines. But can you imagine a fountain which has something different flowing out of it? Take a look at some of the most breathtaking and captivating fountains.
1

Dr Pepper Fountain
neatorama.com
Kansas State student Claire Daniels loved Dr Pepper soda so much that she tweeted, "I really just need to have a Dr Pepper fountain installed in my house. That would probably be cheaper than how much I spend on it currently." Well, be careful what you wish on Twitter, because Dr Pepper saw that tweet and decided to make it a reality: Just one month after Daniels posted the tweet, Dr Pepper's marketing team reached out to Daniels and asked if they could come to Manhattan and surprise her as a reward for her loyalty. It wasn't until Daniels came downstairs and heard the sound of Dr Pepper flowing through the fountain that she thought her wish may have turned into reality. A real life fountain flowing with Dr Pepper!
2

The World's Largest Chocolate Fountain
blogspot.com
The largest chocolate fountain measures 8 m (26 ft 3 in) tall and circulates 2 tons (4,409 lb) of chocolate at a rate of 120 quartsper minute. It is displayed at the Jean Philippe Pâtisserie (USA) in Bellagio Hotel and Casino, Las Vegas, Nevada, USA.
3

Italian Wine Fountain
timeincuk.net
In Italy, people can dial a bottle of wine without paying a dime. In 2016, a local winery Dora Sarchese Cantina opened to tourists and pilgrims traveling between Rome and Orton, a fountain, which pours wine instead of water. What is interesting, the fountain is open around the clock.
4

The World's Largest Champagne Fountain
lumq.com
In 2008 a group of enthusiasts decided to break the world record and make the biggest fountain of champagne in the world. The height of the fountain is 7 meters, weighs 9 tons and consists of 43,000 glasses of champagne. An attempt to break the record was made in the shopping center of the Belgian city of Antwerp near the Veynegema.
5

With Carbonated Water Fountain
slate.com
In 2010 in Paris, we started offering free soda to discourage residents from using plastic bottles. Fountain in the garden Reoi was connected to the public water supply system, and of its six taps pouring carbonated and plain drinking water. Every year, every Frenchman consumes around 128 liters of bottled water, which is one of the highest rates in the world. 215 of these fountains were installed in the north of Italy, which proved very popular.
6

Fountain Nachos
imgur.com
At the wedding, all the guests will surprise fountain of cheese nachos. And, unlike most wedding ideas, it is very accessible and it's easy to make your own hands.
7

The First Beer Fountain in Europe
turizem-zalec.si
A few months ago in the city of Zalec first beer fountain in Europe has opened in eastern Slovenia. Unfortunately, it is not flowing beer inexhaustible river as they could imagine many, and made a fountain in the shape of a flower hops and was equipped with eight taps of which are served (when opening the tap) beers.
turizem-zalec.si
Who taste the beer to pay € 6 for a special glass with a microchip, which allows them to pour himself a 100-ml beer. Beaker was placed under the pump nozzle which is lowered down, and measures the dose of beer. Mayor of Janko Kos hopes that the new fountain will attract Zalec beer lovers from all over the world.
8

The Ketchup Fountain
pinimg.com
The Ketchup Fountain is a fountain of recirculating ketchup that Savannah College of Art & Design alumnus and illustrator Britt Spencer created out of a repurposed chocolate fountain. The fountain was used in his thesis exhibition titled Dagnabit!!! on September 9, 2011. All food was provided by McDonald's for the show
9

Brazilian fountains with natural mineral water
guiadoturismobrasil.com
Cambuquira - a municipality in the Brazilian state of Minas Gerais. It is known for its mineral springs, the water of which is considered the best mineral water in Brazil, and throughout America. The city, located in the mountains at an altitude of 950 meters, you can find seven fountains with sparkling water. The therapeutic qualities of mineral water in combination with the pleasant climate of the region make Cambuquira one of the most important hydro resorts in Brazil.
We'd love to know your comments on this