reutersmedia.net
Who wants that job?
getting paid to masturbate;Yes it sounds awkward, but with such a high pay, someone is going to ignore that ugh feeling.
No, its not a joke, LoveWoo, the UK based sex toy brand company is looking for an "enthusiastic and Haard working" candidate for the post of an official sex toy reviewer.
The role pays £28,000 a year for a full-time employee to masturbate during office hours to review their sex toys. Office hours? that sounds a bit ridiculous. But you can work from home for 2 days a week! What more can anyone want!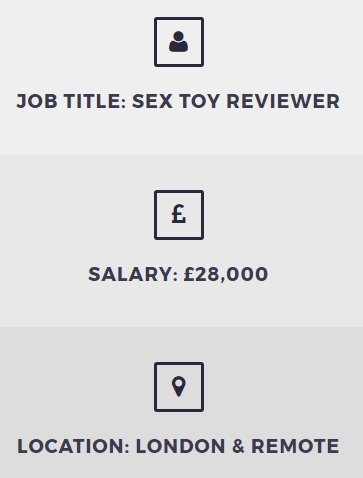 twitter.com
Unlimited holiday, a three-day company retreat, discounted gym membership, and private healthcare. You even get a day off on your birthday, plus a half day on your birthday eve! are some of the perks that come with the job which is based in London.
Sounds like the best job ever advertised!
6iee
The company spokesperson told BBC
Sex toys range from simple to risqué, and as a responsible provider of a huge catalogue of sex toys, [we] feel it necessary to both have and share a good understanding of all products, and be able to inform the public about all perks and pitfalls.Giving sound information and advice is truly important to us, and we want to be a platform that gives factual, honest and clear advice.
The job derscription says:
Test a variety of products you receive from LoveWoo.
Decide why the product is hot, what could make it hotter & give personal recommendations
For those interested, hurry up!

We hope you have noted down the deadline. Its 15th of sept!