i.ytimg.com
Every yacht is different and it is a symbol of luxury. The search for the right yacht requires professional guidance as well as personal insight. Here are the luxurious yachts of the world
1
The Streets of Monaco – $1 Billion
i.ytimg.com
The world of megayachts is hardly known for its subtlety, but this proposed floating city makes even Russian billionaire Roman Abramovich's 557-foot Eclipse look downright sensible. Modeled after the glamorous Mediterranean city-state of Monaco, the Streets of Monaco features exhaustive replicas of landmarks like the Monte Carlo Casino, the Hotel de Paris, La Rascasse, and even a beach-like swimming pool. Estimated to cost of more than $1B to construct, this floating mini-city is the brainchild of the Yacht Island Design, an as-yet-untested firm fond of attention-grabbing designs that don't make it past the design stage. Still, plenty of thought has gone into this extravagant farce.
pinimg.com
2
Azzam – $600 Million
excellencemagazine.luxury
Azzam (Arab. "resolute") is a private yacht built by Lürssen Yachts. Azzam was launched on 5 April 2013 at 180 metres (590 ft) in length as the largest private motor yacht in the world. It has a beam of 20.8 m (68'4") and an unusually shallow draft of 4.3 m (14'1")
furnituredekho.com
3
Eclipse – Price: $340 Million
gazettereview.com
M/Y Eclipse is a luxury motor yacht built by Blohm + Voss of Hamburg, Germany. Her exterior and interior were designed by Terence Disdale Design and her naval architect was Francis Design. The yacht was delivered to Russian businessman, Roman Abramovich on 9 December 2010. At 162.5 metres (533 ft 2 in) long, Eclipse is the world's second largest private yacht, 17.3 metres (56 ft 9 in) shorter than Azzam, which was launched in April 2013.The yacht's cost has been estimated at €340 million.
constative.com
4
Superyacht A – Price: $323 Million
pinimg.com
There is nothing unique about the name of this luxury liner however, the 400-feet long Superyacht A does boast an original design. Reminiscent of a stealth warship or submarine, it was designed by Blohm + Voss of Hamburg and named after the first initials of the fortunate owners, Andrey and Aleksandra Melnichenko, the Russian billionaire and his wife. As can be expected, the Superyacht A comprises the epitome of luxury. The boat interior extends over 24,000 square feet housing a 2,500 square feet master bedroom and disco, as well as six guest suites which can be converted into four larger staterooms thanks to the moving walls.
superyachttimes.com
In addition, mirrored surfaces feature extensively throughout the interior whilst the furniture, glassware and tableware are made of French crystal. Above deck, the Superyacht A houses a helicopter hangar, as well as a 30 foot speed boat kept in the hull and three swimming pools, one of which is glass.-bottomed and situated directly above the aforementioned disco. Finally, it has been designed to accommodate up to 14 guests and boasts enough space for 42 crew members.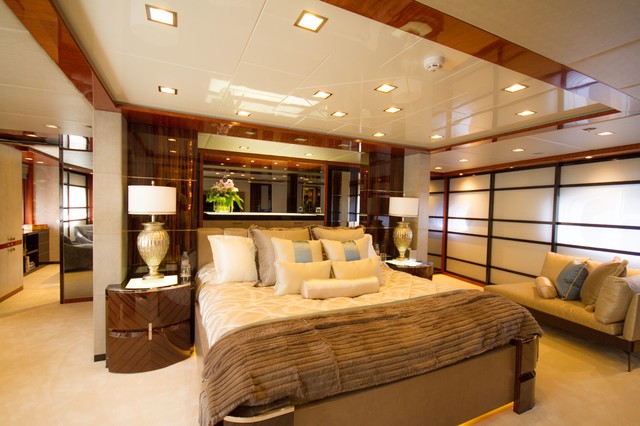 st.hzcdn.com
5
Al Said – Price: $300 Million
cdn.list25.com
Al Said is a luxury yacht owned by the Sultan Qaboos of Oman. The yacht was ordered to be made in 2006, by Lürssen. The ship was code named Project Sunflower during its construction. It is currently the world's highest displacement super-yacht (15,850 tons), the most powerful (16,500kW) and fifth longest super-yacht (155m). Al Said was launched by the Lürssen shipyard in September 2007 and at the time of her launch she was the world's second longest yacht. The yacht was completed in the following months and delivered to her owners in 2008
housely.com
6
Ona – Price: $263 Million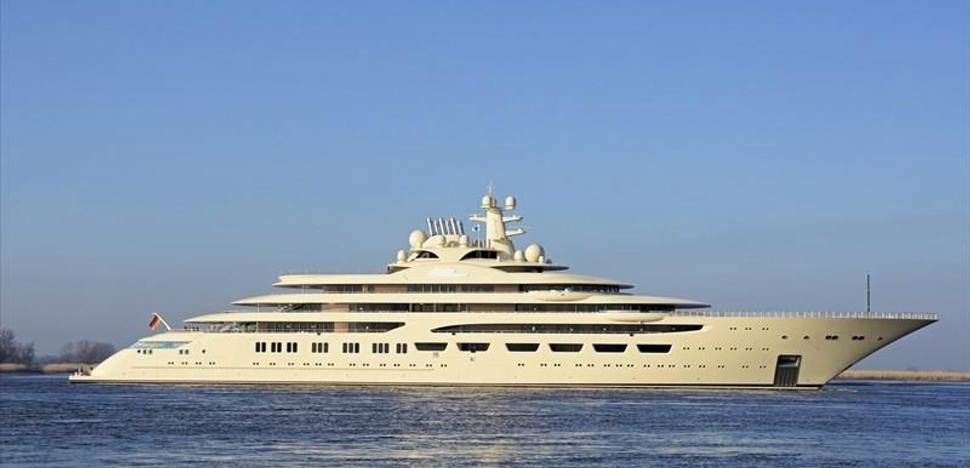 yachtcharterfleet.com
Ona, (formerly Dilbar), is a motor yacht built in 2008 by Lürssen. She is owned by Russian oligarch Alisher Usmanov and is named after his mother. With an overall length of 110.00 m (360.89 ft) and a beam of 16.00 m (52.49 ft) she is the 28th largest yachts in the world. Ona's exterior was designed by Tim Heywood and her interior by Alberto Pinto.The yacht has a helipad on her bow.
housely.com
7
Lady Moura – Price: $210 Million
superyachttimes.com
Lady Moura is a private luxury yacht. She was the ninth largest private yacht when she was launched in 1990, but has moved down the list in 2014 to number 28. She is owned by Saudi Arabian businessman, Nasser Al-Rashid. Lady Moura has hosted several notable personalities, including George H. W. Bush and his wife Barbara. Lady Moura ran aground in 2007 during the weekend of the Cannes Film Festival
bnycharters.com
---