trbimg.com
Are you looking for a frozen treat? And empty your wallet in this coming summer? Then here are some expensive Ice Cream desserts that are not just expensive but most expensive around the world.
1
Strawberries Arnaud ($ 1.4 million)
pagely.netdna-cdn.com
This dessert combines vanilla ice cream, strawberries, wine, cream, spices, mint and port into one delicious dish. Created at Arnaud's Restaurant in New orleans. 4.7 carat diamond ring is used to decorate the top of the strawberries.
The waiters will serve you port wine from the Charles X Crystal Cave Liqueur collection as you have your strawberries and icecreams. And also provide a jazz ensemble for you to enjoy while you eat your Strawberries Arnaud.
cdn.firstwefeast.com
2
Absurdity Sundae ($ 60,000)
financesonline.com
Absurdity Sundae comes from the Three Twin Ice Cream company. You get more than a delicious dessert made with rare ingredients. Three twin Ice Cream has designed this to be a travel experience with a sweet ending that also helps the environment.
i1.wp.com
3
Three Twin Ice Cream Sundae ($ 3,333.33)
nbcbayarea.com
The three twin ice cream company offers a cheaper dessert for those who cannot afford the Absurdity Sundae but still want a unique experience. This ice cream costs $ 3,333.33 and includes banana split covered in syrups from rare dessert wines.
The wine are a German Trockenbeerenauslese, a1960's vintage port and a Chateau D'Yquem.
wordpress.com
4
Frozen Chocolate Haute ($ 25,000)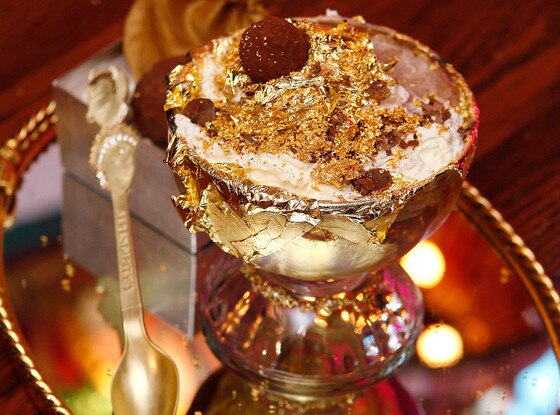 eonline.com
The most expensive dessert is The Frrrozen Haute Chocolate ice cream sundae costing $25,000 (£12,000), which was added to the menu of the Serendipity 3 restaurant, New York, USA.
The dessert is decorated with 5 g (0.17 oz) of edible 23-karat gold and is served in a goblet lined with edible gold. The base of the goblet is an 18-karat gold bracelet with 1 carat of white diamonds. The dessert is eaten with a gold spoon, itself decorated with white and chocolate-colored diamonds, which can also be taken home.
aryzauq.tv
5
Golden Opulence Sundae ($ 1,000)
wordpress.com
Served in the beautiful Serendipity 3 restaurant in Manhattan, the Golden Opulence Sundae was first introduced on the occasion of the restaurant's 50th anniversary almost 10 years ago. The dessert consists of five cups of original Tahitian vanilla ice cream wrapped in 23-karat gold flakes, all decorated with the most expensive dark chocolate in the world, Amedei Porcelana and Chuao chocolate.
si.wsj.net
What makes this sweet temptation so luxurious is the chef's mastery in combining the finest chocolate with edible gold flakes, sprinkled with crystals and precious gems that are the customer's to keep, all served with a 18-karat spoon.
si.wsj.net
While these desserts are no harm to your tummy, they are pretty harmful to you wallet
---