World's Best Breakfasts At a Glance
4.bp.blogspot.com
Breakfast is the first meal of a day, most often eaten in the early morning before undertaking the day's work.Have you ever stopped to think about how breakfast differs in other countries? For some of them,breakfast may not be the most important meal of the day.
Although grains and fruit make cameos in most regions, the exact meals can actually vary quite a bit
English Breakfast
cdn0.vox-cdn.com
Traditional full English breakfast includes bacon (traditionally back bacon),fried, poached or scrambled eggs, fried or grilled tomatoes, fried mushrooms, fried bread or toast with butter, and sausages. As nearly everything is fried in this meal, it is commonly called a "fry-up"
Australian Breakfast
crossfield.at
one of the most popular items is toast with some Vegemite (a dark brown spread made from yeast extract and various vegetable and spice additives. Australians also love muesli with yogurt and bacon and egg rolls, which are often topped with cheese and sometimes barbecue sauce.
French Breakfast
labadiane-hanoi.com
A typical domestic breakfast consists of a cup of coffee, often café au lait, or hot chocolate, sometimes accompanied by a glass of orange or grapefruit juice. The main food consists of sweet products such as tartines (slices of baguette or other breads spread with butter, jam or chocolate paste), sometimes dunked in the hot drink. Brioches and other pastries such as croissants are also traditional.
Indian Breakfast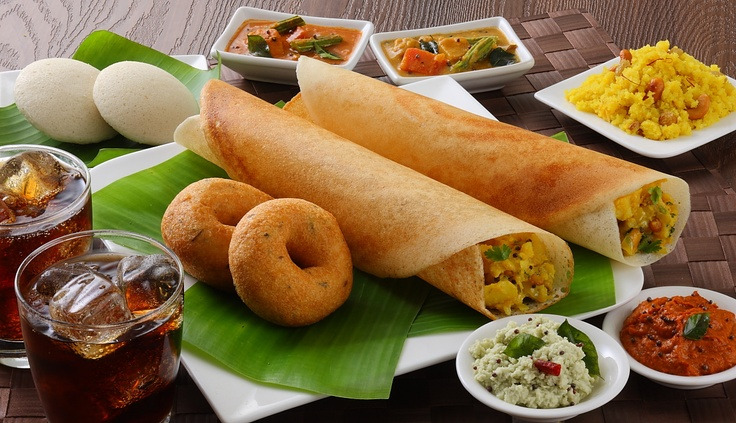 t1.daumcdn.net
There is no standard Indian breakfast menu as almost each state in India has different specialties. However, one can broadly classify breakfast varieties in India into 2 types; North Indian and South Indian. The eastern and western parts of India also have individual breakfast items unique to their culture or state.A typical south Indian breakfast consists of idli, vada or dosa coupled with chutney and sambar.
Japanese Breakfast
global.ssl.fastly.net
The standard Japanese breakfast consists of steamed white rice, a bowl of miso soup, and Japanese styled pickles (like takuan or umeboshi). A raw egg and nori are often served; Grilled fish and Japanese green tea are often served as well.
Italian Breakfast
data.whicdn.com
The traditional breakfast in Italy simply consists of a caffè latte (hot coffee with milk) or cappucino with bread or rolls, butter and jam.
Swedish Breakfast
c1.staticflickr.com
Like in other European countries, open-faced sandwiches are a must. In addition to that, soured milk, crispbread and porridge with caviar have all been a part of the Swedish breakfast routine for centuries.
Chinese Breakfast
static01.nyt.com
As China is made up of many distinct provinces each with their own unique cuisine, breakfast in China can vary significantly from province to province. Well, their first meal of the day often includes dumplings, porridge or soup containing meat, meat filled buns and other not-so-light meals.
Filipino Breakfast
recipenijuan.com
As with most Asian countries, the staple food in the Philippines is rice. It is most often steamed and always served with meat, fish and vegetable dishes. Leftover rice is often fried with garlic to make sinangag, which is usually served at breakfast together with a fried egg and cured meat or sausages
Mexican Breakfast
thelatinkitchen.com
A traditional Mexican breakfast consists of eggs prepared in different ways (like Huevos rancheros), accompanied by beans with chile and tortillas. Also very traditional are chilaquiles (pieces of corn tortilla with a cheese and chile sauce) and entomatadas (a variation of the spicy enchiladas.)
US Breakfast
decorcentral.com
Breakfast in the United States and Canada often consists of some combination of hot or cold cereals, eggs, breakfast meats, and breakfast quick breads such as pancakes, waffles, or biscuits. Variants of the full breakfast and continental breakfast are also common. Coffee is a common breakfast beverage among adults, but is not popular with children.
Brazilian Breakfast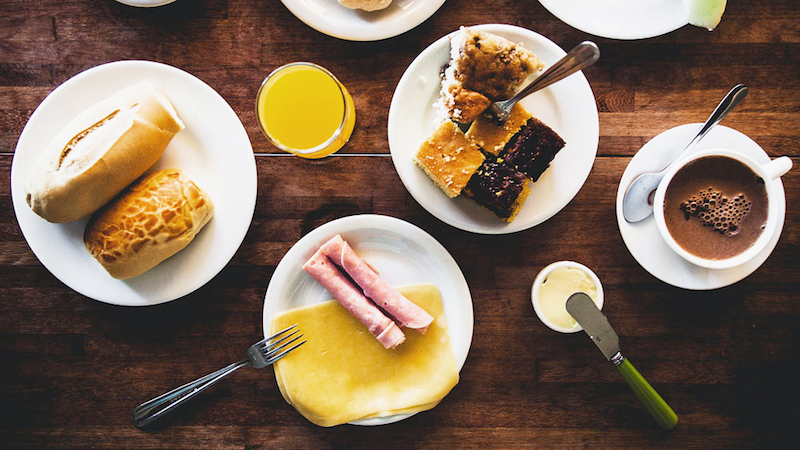 byrontalbott.com
Ham, cheeses, and breads make the base of a traditional Brazilian breakfast. All you need is side of Brazilian brewed coffee and some cheese puffs.
Spanish Breakfast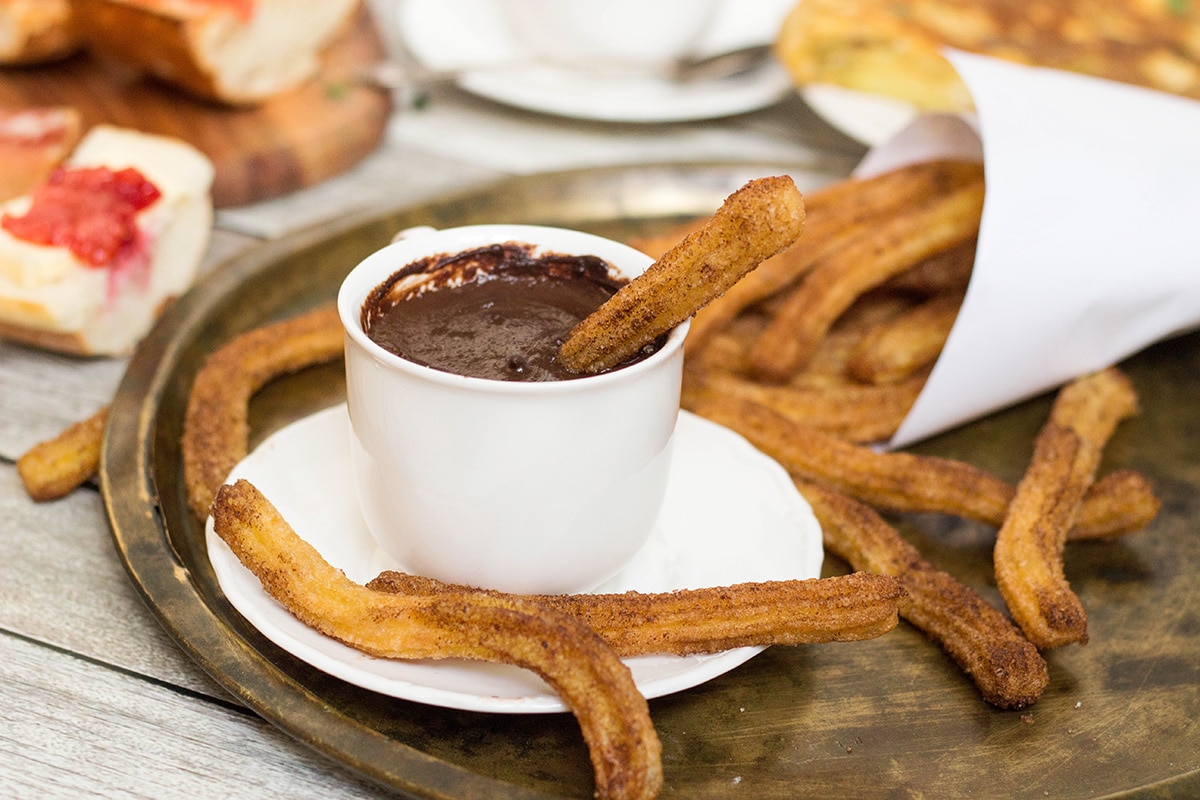 cookingtheglobe.com
In Central Spain there is a special breakfast 'known as chocolate con churros – hot chocolate with Spanish-style fritters, which are extruded sticks of doughnut-like dough with a star-shaped profile covered in sugar. The usual one is the same as in the rest of Spain: coffee with milk or Cola Cao, eggs, orange juice, biscuits or toasts, with butter and jam.
Russian Breakfast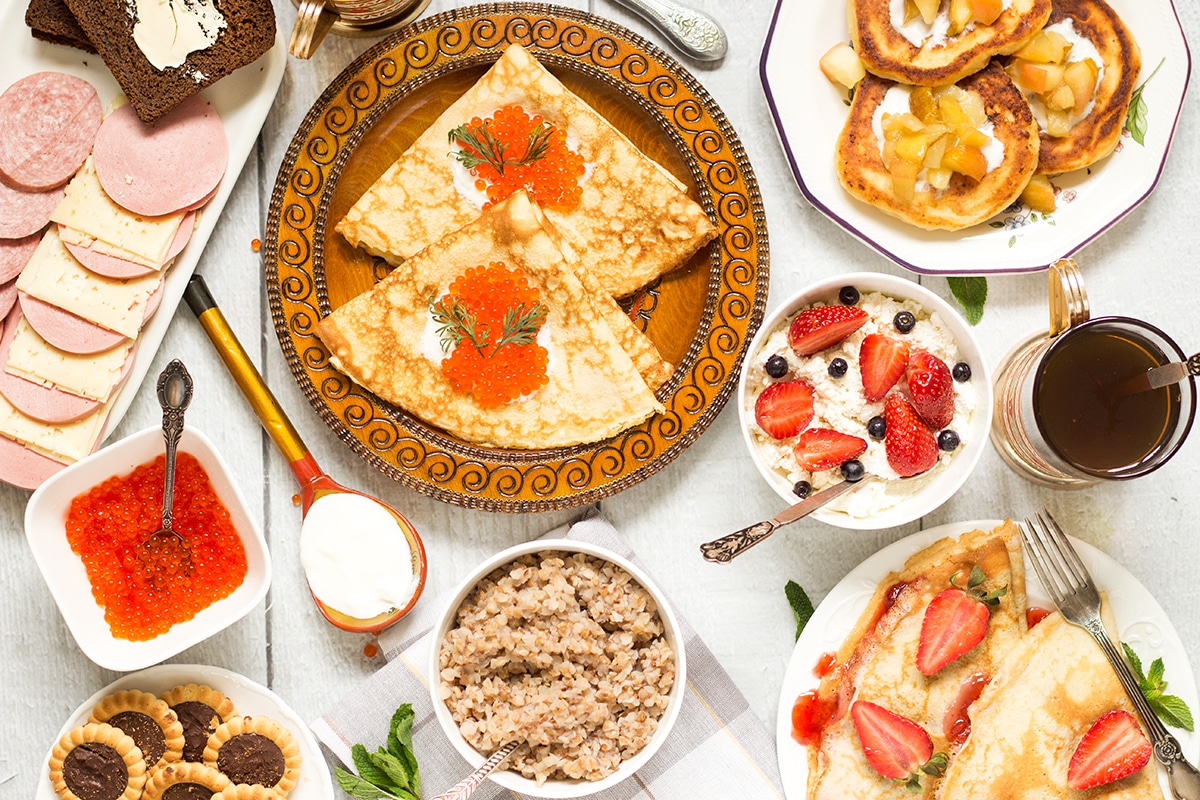 cookingtheglobe.com
Traditional Russian breakfast are concentrated on kashas, or porridges – with buckwheat and oat, as well as semolina, serving as the three most important bases of such dishes, usually cooked on water or milk, as well as consumed with or without milk. Breakfast foods also include pancakes or oladushki. Sirniki, is a cheese form of pancake. Sirniki are made of tvorog (quark cheese), which can be eaten separately with honey for breakfast.
So many breakfasts to try!
---
Top