Got a charcoal grey suit? Great! Adding these accessories with the suit will accelerate your formal looks from ordinary to Extraordinary!
1
Unique Hat with White T-Shirt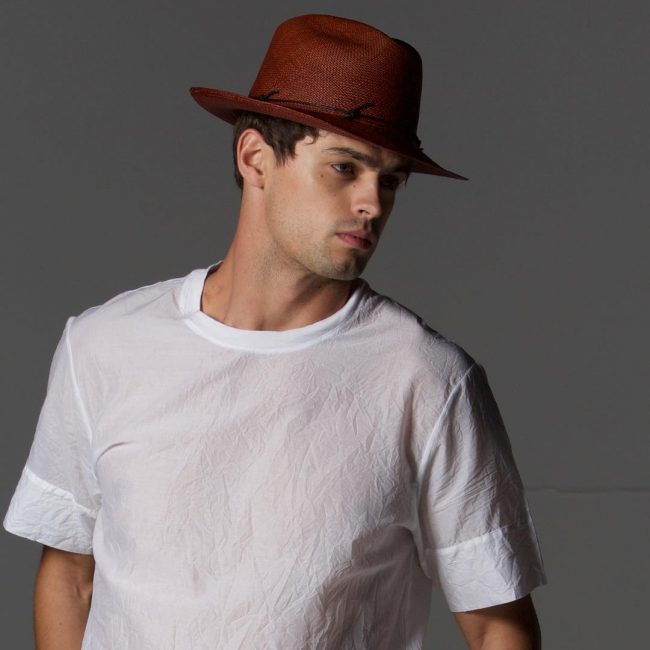 instagram.com/shopartesano
It is not always necessary to go with white when wearing the Panama hat because there are still other options. This particular one comes in a Brown-like shade, and it has a black string with knots instead of the ribbon, and it pairs with a white t-shirt perfectly.
2
Artistic Straw Hat
instagram.com/shopartesano
The creative and unique look of this straw hat comes from sticking some random straws over it. It also has a beautiful shade, and it pairs with the navy blue t-shirt to give the guy an attractive appearance.
3
Traditional Styling
instagram.com/mundosombreros
Sit cool in a handcrafted beige hat sporting pinched crown and a dent at the top. Sport a striped band featuring brown, black and beige stripes. Settle for a black blazer and sport the flair of a red patterned shirt. Finish tough in blue jean trousers.
4
Dapper Business Wear
instagram.com/dapper_steve
Upgrade your business wear and add some fun to it with a navy blue hat sporting a grey velvet band. Wear with a blue glen check suit that has a white pocket square. Sport a white shirt that's worn with a beautiful printed tie.
5
Bright Blue Bob Hat
instagram.com/lepanacheparis
They may not only be fashionable, but you will have to dig deeper into your pockets to acquire one. However, the stunning look after wearing one is worth the price.
6
Brown Hat and Jacket
instagram.com/roostersmusic
You can never slip up with a vintage tweed jacket like this one, but this look proves that you can still spice it up. Here the jacket pairs with a matching beret style cap to create an attractive overall appearance.
7
Rock-Style Wear
instagram.com/leonderomeo
Go for a textured hat and make it black on the band. Create a batch that sits shallow at the tips and sport a slight taper on the crown. Finish in style with a slight roll to the edges of the brim.
8
Stylish Gentleman's Look
instagram.com/chapelhats
Black never disappoints when matched with brown. The black jeans suit is perfect for casual Friday. The brown hat looks great with it.
9
Brilliant Semi-Formal Attire
instagram.com/leobarbudo
Here is a brilliant way to keep the cold in check while still looking fantastic. It is about wearing a waistcoat over a dress shirt and combining it with selvage jeans before capping the look with a brown scarf, long gray jacket, and a woolen beret.
10
Simple But Stylish Look For Boys
instagram.com/nomademodernehats
On a weekend when you do not have office or school commitments, a simple T-shirt and jeans look that features a black long-sleeved T-shirt and blue jeans will be perfect. A black sun hat will be perfect to go with this look.
So don your Hat just like that
---