staticflickr.com
The real masterpieces of art transformed stores around the world thanks to the original design ideas and solutions. Sometimes they look luxurious and extravagant, and sometimes funny and amusing. A visit to any of these stores will be unforgettable for you. And the purchased items will be loved and will long remind you of an exciting journey.
1
Shop Romanticism (Hangzhou, China)
architect.co.uk
Shop Romanticism - a chic place to get inspiration and realization of all their desires. The futuristic interior design and space seems unreal. Store in a refined network design allows the visitor to feel like a hero fantastic journey.
contemporist.com
Japanese architect Sako Keichiro not afraid to step beyond the bounds of established traditions and everyday classics. In his design he implemented an innovative idea, having considered the unique relationship between the body, space and clothing. The uniqueness and singularity of his decision was the fact that he identified three types of skin that are organically linked. And it created a space of high-tech form entangled network. Its value is multi-functional, it is both the walls and furniture, and shelves for collections.
2
Shop Shoebaloo (Maastricht, Netherlands)
architects.com
The newest branch network of the famous shoe designer stores located in the center of Maastricht. At the entrance to the store, you are immediately transported into another cosmic world. boutique interior is made in the form of glittering fairy cave.


retaildesignblog.net

Its design is reminiscent of the eroded layers in the canyon, who stepped forward and speak again gradually deepened down. This alternation of layers with shiny edges and a matte finish creates a dynamic and exciting look. A stand-corners ideal for displaying an unusual collection Shoebaloo. Showcases for accessories and cash area is also provided in the form of flickering layers.
3
Top-Box Adidas (Amsterdam, Netherlands)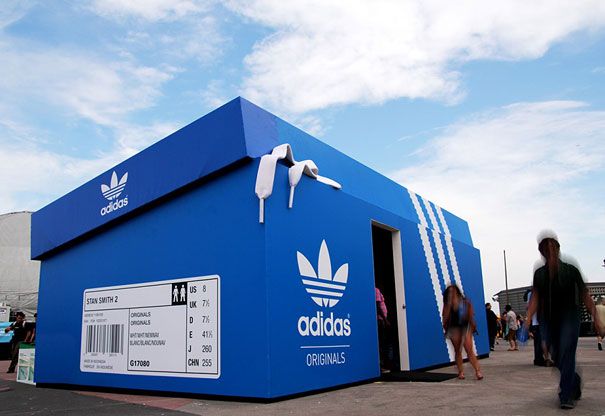 twimg.com
A brilliant marketing move made a world-renowned company Adidas after intense brainstorming. sportswear manufacturer has developed a new creative concept store design in the form of a giant box from under the shoe. Huge blue boxing giant located in the center of Amsterdam. It looks interesting and fun.


pinimg.com

Stylish look and half-opened boxes hanging from the roof of her huge laces give the impression that someone had tried to open the box and find the shoes inside.
4
Shop OWEN (New York, USA)
retaildesignblog.net
Unusual design of women's clothing boutique in New York, designed by the architect Jeremy Barbour. It presents a model collection of more than 70 designers from popular brands. Arched walls and ceiling are made in the form of a delicate pattern of cells and have a rough surface.


chainstoreage.com

The purpose of this unique design inspire people not only clothes, but also the artistic atmosphere. It took 25,000 brown paper lunch bags to create this masterpiece. Some brick walls left intact, and they are harmoniously contrasted with the organic texture packages.
5
Store radio Diesel (London, England)
pinimg.com
From the design of the store on Carnaby Street in London will get a true delight true connoisseurs of vintage, and those who want at least a minute to go back into the past. store facade is made in the form of an old radio looks funny enough for today's teens. In conventional plywood was used as decorative elements. This view when designing radio-shaped storefront made him one of the most famous buildings in the world. It is actually now the radio and all the volume and balance, as well as krutilki are in full operation.
6
Shop Louis Vuitton (Paris, France)
presidiopenthouse.com
Creatively and originally I decided to go to celebrate its 150th anniversary of the company Louis Vuitton - the creator of brand stylish handbags. To this end, the main facade of the store on the Champs Elysees was reconstructed in the form of two huge suitcases. This unique installation is fully consistent with the profile manufacturer and exterior design branded suitcases. The unique concept introduced in the architectural diversity of the world of Paris and performed the role of extraordinary advertising.
7
Shop Own (London, England)
netdna-ssl.com
"I just quickly buy nail polish" - says the girl and her boyfriend disappears for a long time in an unusual shop in the form of nail polish bottles. His love to visit all of the fair sex. The bright pink design features several cozy pavilions with separate entrances. It sells nail polish Own brands on display are more than 250 colors.


pinimg.com

The entire range is placed to one side for the convenience of shoppers, on the other hand were located displays and cash register area, which helps to quickly make a purchase. Especially flooded into the wall of the liquid is made of fiberglass and it seems that it is constantly moving.
8
Top-amplifier (London, England)
zavodila.com
Fans of rock music and guitarists will never pass by this store, which is located on one of London's streets. And the thing is its interesting design of the facade, the highlight of which was the fact that he is an amplifier for the electric guitar. Shops selling electric guitars, has become one of the most remarkable places in London. He always collects near her tourists who want to do on the background of interesting photos.
9
Candy Shop (Miami Beach, USA)
foxnews.com
Walk past the candy store, Dylan Lauren, and not be able to buy delicious treats even adults, let alone children. The daughter of a millionaire, famous designer Ralph Lauren became the American queen of sweets. It owns a candy store network Dylans Candy Bar, which is founded in 2001.


mizhollywood.com

Her candy boutiques on Miami Beach, New York, Los Angeles and Chicago cause delight and surprise, so their bright and colorful design.
10
Eco Shop Momo (Hong Kong, China)
inhabitat.com
Respect for nature inspired Andy Tong, sportswear shop owner, to create some strange buildings, walls and roof are made of unnecessary construction waste and decommissioned glass. It resembles a makeshift nursery fortress and made in the form of shelter from the old window frames. Very strange look store fixtures made from old T-shirts with light bulb inside.



inhabitat.com

In the store there is no sign and it attracts all the curious visitors necessarily go inside. An important advantage of the building is that it is easily disassembled and can be transferred to any other place.
11
Bike shop (Berlin, Germany)
tourismontheedge.com
The original idea raspolozhit120 bicycle store advertising on the facade of the building came up with Christian Petersen. After the inventory workers simply reinforced the main product at the entrance to the store. Brand advertising has worked better than any billboard and aroused general interest and admiration.


berlinwelcomes.com

Creative marketing move made his shop one of the most unusual, not only in Berlin, but also in the world. He drew the attention of a huge number of cyclists and interesting things.
12
Boutique Swarovski (Tokyo, Japan)
cargocollective.com
The luxury and splendor of Swarovski boutiques make it one of the most extravaganza of shops in the world. To implement its project Japanese Tokujin Yoshioka used 3 tons of decorative crystals. Stunning design with jewelery boutique does look like a magical palace of the Snow Queen.


pinimg.com

Eccentric facade of a building "Crystal Forest" is made of 1500 steel rods with mirrored reliefs, iridescent and shimmering in the sunlight. Crystal Forest sparkles billions of pieces of ice coming down cascade down, which is reflected all around.
---