If you take a look at the pages of history, you would get to know that its the females who have played some of the finest negative roles, proving a tough competition to those all time powerful male anti heroes.
But have you ever wondered who the hottest female villain is?

Here we have a list of 6 hottest female movie villains and this is going to be really useful for you to recollect how well the women have played some of these negative roles in Hollywood.
1
Rebecca Romijn - X-Men Trilogy
static.srcdn.com
Mystique is already one of the most dangerous villains of the X-Men world. She has the ability to take the shape of any other humanoid to the extent that she can even duplicate retina and finger patterns. This means that she can turn herself into the sexiest person if she wishes to but she doesn't need to. Mystique's sex appeal works irrespective of her powers.
2
Megan Fox- Jennifer's Body
vignette1.wikia.nocookie.net
Now comes the turn of our adorable lady, Megan Fox. Her role in Jennifer's Body brought a great revolution because she looked hot, sexy and played the role greatly. Especially, she is one of the most beautiful Hollywood actresses as well. She has played a possessed cheerleader who is fond of killing her classmates. The film was panned by critics and had minimal success. But it didn't affected Megan's prominence
3
Antje Traue - Man of Steel
geeksaresexy.net
Among those so many attractive females in negative roles is another great name—Antje Traue. She, in Man of Steel, looks extremely attractive. She played the role of Faora, which we cannot forget because of her immensely beautiful acting and wild-looking figure.
4
Michelle Pfeiffer - Batman Returns
wordpress.com
Selina Kyle (a.k.a. Catwoman) was introduced for the first time as a lithe burglar and jewel thief. As the time passed, she proved an adversary for Batman. The Batman Returns has Michelle Pfeiffer; the role was played by her so beautifully. Wearing the best iconic costume, she looks superbly sexy here.
5
Sharon Stone - Basic Instinct
joblo.com
Honestly speaking "Basic Instinct" shows Sharon Stone in the most stylish and beautiful way. She played one of the most memorable movie characters of the 90's. The way she has been portrayed in this film is extremely admirable, and to tell you honestly she looks very hot. Did you see her in this film?
6
Uma Thurman - Poison Ivy
static1.comicvine.com
I have no words to express how adorable and hot Uma Thurman looks in "Poison Ivy" role. She declares "I probably should've mentioned this earlier. I'm…poison,". It is one of the best batman series, released in 1997. Such a hot villain role, played by Uma, is something highly seductive one cannot forget. Am I right?
7
Svetlana Khodchenkova - Wolverine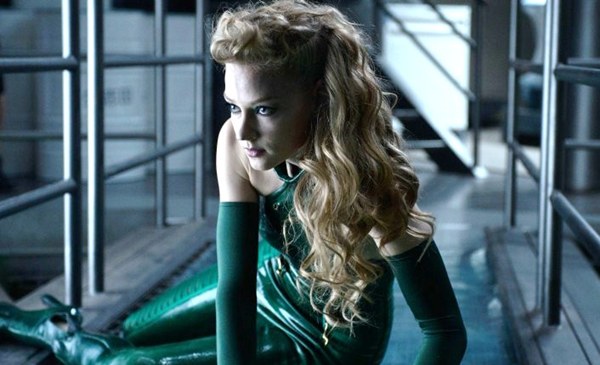 filmofilia.com
2013's Wolverine has featured a sexy Viper, a reptilian-tongued mutant who gives preference to have toxins. The role is played by Svetlane Khodchenkova very well. This Russian beauty is used to steal the show as the serpentine villain using a razor-sharp bite. Sounds interesting? Watch her in this movie to know more!
Which of them are on your favorite list?
---