It all begins with a blank sheet of paper or tablet screen. Working with cues from the story team and notes from the director, this department is charged with helping to capture the right look to support the emotional core of the character, and define who that character is.

We are talking about the Disney's expert design team who is responsible for exploring all possible options for creating the look and appeal of a character.
Over the years disney has given its fans a lot of memorable characters and so many 'aww' moments.

Today we are taking a look back at some of the cutest characters and cutest moments from disney movies.
1
Baby moana
i.ytimg.com
Disney redefined the meaning of cuteness with baby Moana
youtube.com
2
Rapunzel
cdn2.gurl.com
its one of the best disney moments.If only this could happen in real life
youtube.com
3
Finding Dory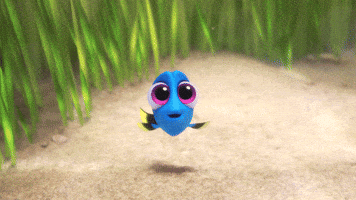 giphy.com
A great movie that entertains young children and carries important lessons about life, friends, family and living with disability.
youtube.com
4
Arlo
giphy.com
Arlo is the protagonist of The Good Dinosaur. He is a young Apatosaurus living with his parents. Contradictory to the picture we havve when we think about a dino. And that's exactly that makes Arlo better.
youtube.com
5
Olaf
giphy.com
He's Olaf and he likes warm hugs. He is by far the friendliest snowman to walk the mountains above Arendelle.
youtube.com
6
Sadness of Inside out
brainprick.com
Sadness, in other words, is as important as happiness. You cannot imagine sadness anymore cuter.
youtube.com
7
Joy of Inside out
squarespace.com
Joy reigns supreme. Even without an organizational chart, you can tell she's the boss. She's a sparkling whirlwind of positive energy and friendly micro-management.
youtube.com
8
Nemo
cartoonbros.com
To find Nemo is to discover underwater treasure. The animation has the depth of the ocean itself.
youtube.com
---