These True Stories Will tell you The Real cost of Education
flickr.com
Many children do not like to go to school. If your child is one of them, show them these stories, let him read it, these struggles,many kids from different parts of the world are fighting for their right to study, and maybe it will change his mind.
1
China
flickr.com
Today, China is developing at an astonishing rate. Its economy - one of the largest in the world. But despite this, in many remote and poor provinces kids just fighting for their right to education. They are ready to get into the school through the mountains for tens of kilometers, to study in old buildings, and even in the cave. In Guizhou province until 2011 operated the school, which was located in a cave. Guizhou - a very poor region with difficult weather conditions. Local children were not able to learn. In 1984, the school organized a natural cave. There are about a dozen teachers taught and had learned more than a hundred children. The cave even built several buildings, and organized a small sports ground. By order of the government school was closed, so only built if the modern, is still unknown.
2
Colombia
ggpht.com
For some children, the road ceases to school a real challenge, because it is not necessary to travel on land and flying eight meters above a deep chasm. Children cling to the metal cables and thus get on the other side of the Rio Negro. Are you ready for such tests, so as not to miss a lesson?
3
Africa
flickr.com
In many African countries, education for children remains a luxury. In countries where the fighting is taking place, rampant epidemics and hunger, the right to education takes a back seat. Yet in many poor neighborhoods are organized most basic school, some of them are located just under the trees to fell a little shadow. Here the youngest students learn the alphabet and learn to count.
4
India
ytimg.com
India remains a country of striking contrasts. Together with a growing economy, the development of space and health fields, hundreds of thousands of people continue to live outside of poverty and are deprived of the most basic rights. For example, the right to education. In the slums of New Delhi, a lot of families because of poverty can not send their children to school. But kids are so eager to learn that it does not matter where to acquire knowledge - in convenient classes ... or under a bridge. Improvised school under the bridge organized by a former college professor Rajesh Kuma Sharma. His students are sitting on the ground, they board serves as a concrete wall. But the children never complain. They diligently do their homework, listen to the teacher, and not even think to write off. After all, acquiring knowledge, they have an opportunity in the future to find a job and get out of poverty.
5
Afghanistan
ift.tt
To receive an education in Afghanistan, girls literally risking their lives. In this country until 2001, women were not allowed to study or work. After the overthrow of the Taliban regime abolished this limitation, but this does not prevent radicals severely punish those students who attend the school. In 2015, three girls doused with acid as they walked to school. The hospital is one of the victims said: "I will still go to school. Let them do it a hundred times, it still does not stop me! ". The scary thing is that this atrocity - is not the only and not the last in this country. Criminals are not found, and not really trying to look for. Almost all the crimes that affect women in this country are not disclosed.
6
Pakistan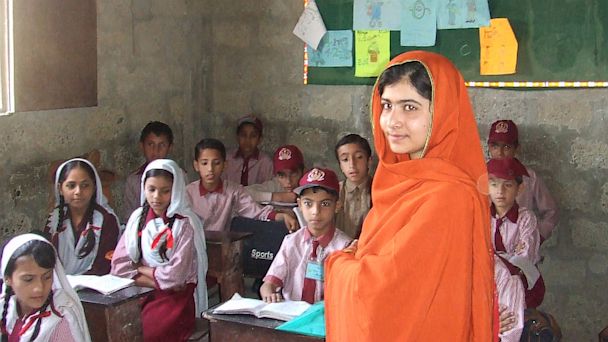 abcnews.com
For your desire to be educated Pakistani girl Malala Yousafzai nearly paid with his life. At age 11 she was their own blog about their lives in Pakistan. She wrote that the members of the Islamist movement "Taliban" forbid women to go to school, as well as the other crimes of this organization. During that Malala was shot at close range on his way home from school. One of the bullets hit the forehead and exited through his cheek. The little girl nearly died because that proved their right to education. She fell into a coma, there was no hope for her recovery, but in spite of all the girl survived and returned to an active lifestyle. After recovery Malala continues to fight for the right of Muslim women to education. At 17, she won the Nobel Peace Prize and became the youngest woman, who won this award. "My dream is that education will rule in our country" , - the words Malala. At a time when the developed world its peers running on the party and plan their studies in college, Malala continues to fight for women's right to education in their own country.
7
Palestine. Gaza Strip
middleeastmonitor.com
Small crowded area in Palestine, which is known as the Gaza Strip, is considered one of the most densely populated in the world. On this plot of land are constantly fighting for something and destroyed homes, and schools. For Palestinian children holes in the walls of the shells are not a reason to cancel classes.
8
Ukraine
flickr.com
It is terrible to be aware that the list of countries where learning becomes life-threatening, and entered Ukraine. Although it is not Asia, girls and boys have the same rights, the Constitution stipulates the right of all children to learn, but today many students from Eastern countries really are risking their lives to go to school. Many schools in the area ATO equip bomb shelters, because shooting can start at any moment. Many children have to study in the so-called "gray areas", where seemingly there is no military action, but the shells will still fly, many students are forced to get to their schools through the checkpoints. But even in such hazardous areas in schools still remain the children who want to learn.
9
Philippines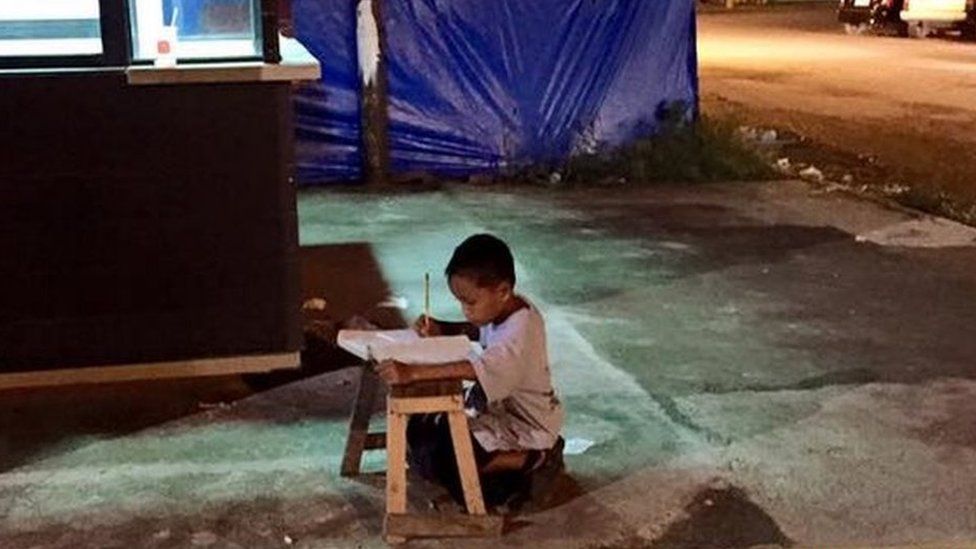 bbci.co.uk
Little boy Daniel Cabrera after snapshot student Joyce Gilos, unwittingly, became a world celebrity. Father Daniel died, their family home burned down, and she and her mother are forced to live on the street and begging. But, despite this, he is doing everything in order to attend school. Daniel does his homework under the windows of the local McDonald's restaurant, from which the light falls. Photo Daniel broke up on the Internet with the inspirational caption: "If it's really important to you, you will always find a way - if not an excuse."
For many of these children education is a lifeline out of poverty and dependence on their husbands and families. Education gives a chance for a new life, and most importantly - makes a person better. Many children of the world can only dream of repair in the classroom, a free lunch, new textbooks, a beautiful shape, modern gadgets. He is not so important. The main thing - to learn ...
---
Top