bugatti.com
"When seconds are count between living and dying, the Police are only minutes away"
Sometimes our Police force will have to chase criminals in order to maintain law and order. Catching and chasing has gotten a lot more glamorous for some police forces around the world. Police forces everywhere from Michigan to Dubai have become the lucky owners – or temporary owners – of Camaros, Ferraris and Lamborghinis. And although not all of the vehicles were used in high-speed chases, they've all played some part in criminal justice – even if only by strengthening relationships between police and the surrounding communities or promoting safe car tuning.

Recently Dubai police's Bugatti Veyron supercar which can reach 253mph is officially declared the fastest cop car in the world . Now let's take a look at the ten fastest police cars in the world
1
Bugatti Veyron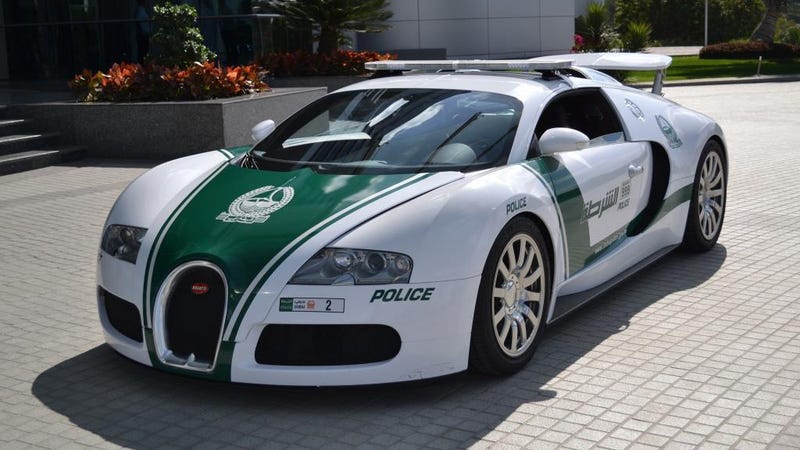 kinja-img.com
While the Dubai police could overtake almost everything on the road, they apparently need a car that take down anything. Capable of speeds up to 268 miles per hour and hitting 60 miles per hour from zero in just 2.5 seconds, there's no way anything can get out of the Veyron's grasp
2
Brabus Rocket (Germany)
aolcdn.com
With a top speed of 225 mph (362 km/h) and the ability to go from 0 to 62 mph (100 km/h) in 3.2 seconds, the Brabus Rocket certainly lives up to its name. Although it would be even cooler to have this supercar out catching criminals on German roadways, perhaps its $550,000 price tag
3
Aston Martin One-77 (UAE)
gundemiyorumla.com
The car is extremely rare, with only 77 models existing worldwide. What makes this vehicle rarer still is the fact that it's one of only seven in the Q-Series. It's powered by a 7.3 liter, V12 engine and reaches a top speed of 220 mph (354 km/h). Moreover, since it's able to go from 0 to 60 mph (97 km/h) in a mere 3.5 seconds, this supercar could be put to good use in cracking down on speeding. Illegal road races, stunt driving and a supercar culture have proved major killers in the United Arab Emirates.
4
Lamborghini Aventador LP 700-4 (UAE)
imaginelifestyles.com
This Lamborghini joins the ranks of Dubai's finest with its insane capabilities and fighter jet physique. This super quick machine has an official top speed of 217 mph (349 km/h) and the ability to accelerate from 0 to 60 mph (97 km/h) in 2.9 seconds. While there has been some speculation that the Aventador is meant to deter speeding, others claim that the supercar is merely for show. Some have joked that it is simply meant to encourage new police recruits.
5
Ferrari FF – Dubai Police (UAE)
drivearabia.com
This Ferrari FF wasn't the first supercar to join Dubai Police's fleet of crime-preventing vehicles – and it wasn't the last. This Ferrari, however, is driven exclusively by female officers. Dubai police chief Lieutenant General Dhahi Khalfan Tamim explained the decision to buy the supercar by saying, "Dubai is a unique city and everything in it should reflect its uniqueness and for that reason police will add a Ferrari sports car to its patrol fleet." The Ferrari, which was added to the fleet in April 2013, can fly down Dubai's roadways at 208 mph (335 km/h) and goes from 0 to 62 mph (100 km/h) in 3.7 seconds.
6
Lamborghini Gallardo LP560-4 (Italy)
omniauto.it
The 2008 vehicle was used by the Lazio Highway Police Department to increase presence on the country's roadways. Accidents and crime prevention were at the top of the to-do list – and for good reason. According to a 2009 article, in 2008, 4,731 people were killed in car accidents in Italy. The Gallardo LP560-4 has a top speed of 203 mph (327 km/h) and goes from 0 to 62 mph (100 km/h) in 3.7 seconds.
7
Audi R8 GTR – Polizei (Germany)
pinimg.com
This supercar can zip from 0 to 62 mph (100 km/h) in just 3.2 seconds, and with a top speed of 202 mph (325 km/h), it could give fleeing criminals more than a run for their money. What's more, although it was only used for show, the Audi may have done more to encourage safety and proper tuning practices than if it were a regular patrol car.
8
Spyker C8 Spyder (Netherlands)
4wheelsnews.com
Police in the Netherlands have one of the most unique cop cars in the world, with a Spyker C8 Spyder. While the standard coupe version is pictured above, the police have the province of Flevoland welcomed the C8 Spyder to the force in 2008. Armed with a car that can hit 186 miles per hour and soar to 60 mph in just 4.5 seconds, speeders all over the Netherlands have something to fear.
9
Lexus IS-F – Humberside(UK)
evo.co.uk
Humberside Police in northern England bought this modified Lexus IS-F in July 2009. The car can go from 0 to 62 mph (100 km/h) in 4.6 seconds and has a maximum speed of 168 mph (270 km/h), thanks to its 416 horsepower, 5.0L engine. The Lexus comes equipped with two high-tech radios, four cameras, and a computer platform that allows officers to access records and the national police database while on the road.
10
Ariel Atom (UK)
express.co.uk
In what is probably the most unique police car in the world, authorities in Avon and Somorset are the proud safekeepers of a specially-outfitted Ariel Atom, which can hit a top speed of 168 miles per hour, and get to 60 miles per hour in just 2.5 seconds.
We'd love to know your Comments
---