lawyersnetherlands.com
Windmills are iconic for the Netherlands. Wind power in the Netherlands reached an installed capacity of 3,431 MW by year end 2015, 427 MW of which were based offshore.The 2,174 turbines sited in Holland by the end of 2015 provided the country with 5.6% of its electricity demand during the year, a figure that is growing but somewhat below the average of 11.4% that wind power provides across the whole of the EU's electricity consumption. 2015 was a record year for new installations in Holland with 586 MW added of which 180 MW were offshore.
1
Windmills used to be everywhere
cloudinary.com
A gentle creak and a soft 'whoosh' as the sails zip past is all you hear when standing close to a windmill. These days, it's easy to forget that century or so ago this sound was ubiquitous. Windmills (molens) used to be everywhere: more than 10,000 fully operational windmills once dotted the Dutch landscape, being employed for industrial purposes. When the windmills found themselves in competition with steam and later diesel and electricity, they gradually disappeared from the Dutch landscape: 1,200 of them remain today. Being lovingly maintained and protected, they are now much-loved icons of the Dutch landscape, especially in Old Holland. One of the best places for windmill spotting is the Zaanse Schans, a free outdoor park with an impressive collection of historical windmills.
2
They are true all-rounders
iamsterdam.com
Many people think windmills were only used to make flour out of grain, but in fact, there were many more functions. Windmills were draining the lowlands of excess water to reclaim polders, to press oil from seeds or to saw wood. One must-see is De Kat, a paint mill where dyes and chalk are still ground to produce pigments for traditional paint.
3
They started the world's first industrial revolution
pinimg.com
The mills that were used for sawing wood ensured a flourishing shipbuilding industry in the Zaanstreek region in Old Holland, which is where the world's first bona fide industrial zone emerged in the 17th century. Around 1650, some 75 ships were built here each year. Even Tsar Peter the Great came over from Russia to learn how to build a ship in Zaandam!
4
You just need to jump on a bike to see lots of them
pinimg.com
There are many ways to enjoy a day out windmill spotting. For example, numerous bus tours take visitors to the most interesting and picturesque specimens. But one of the loveliest ways is also the most Dutch one: hire a bike and step on the pedals! This cycling route through the Zaanstreek region, the historical windmill mecca, takes about three hours and passes a number of must-see mills (and even a windmill museum!).
5
There is a National Windmill Day
wordpress.com
The Dutch love their windmills so much that they even have dedicated a special day to them. Every year in mid-May, the country celebrates National Windmill Day, for which windmills throughout the Netherlands are decorated with flowers, figures of angels or Dutch flags, and doors are thrown open to visitors.
6
The oldest windmill
hotelroomsearch.net
The oldest remaining mill in the Netherlands is the Zeddam tower mill in the province of Gelderland. It is one of four remaining mills of its type. Built before 1451, the year it is first mentioned in a document, it belonged to the ducal Van den Bergh family. Local farmers had no choice but to bring their grain to the mill, hence the name 'dwangmolen', or forced mill. During World War II, the mill was used by friend and foe alike: the Wehrmacht used it as a look-out post but it also sheltered local people who needed a safe house. Canadian soldiers left a radio transmitter in the attic which can still be seen today.
7
Where to see windmills today
tourismontheedge.com
Kinderdijk is one of the best-known places for windmill watching. Its 19 windmills, almost all 'grondzeilers', are on the UNESCO world heritage list. These mills, which pumped up the polder water, played an important part in shaping the Netherlands. The Zaanse Schans is another popular windmill destination. It has a collection of working saw mills, oil mills, a spice mill and many more historical monuments. Best avoided during the main tourist season.
8
Windmills in art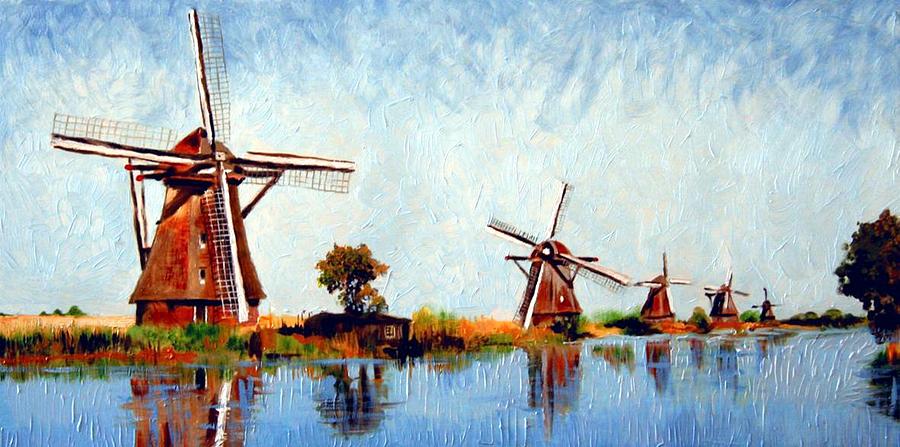 dutchnews.nl
Windmills abound in the paintings of the Golden Age. They could hardly be avoided: some nine thousand dotted the landscape in the 17th century. Rembrandt (a miller's son) painted a powerful picture in which a windmill towers over the landscape, the sun lighting up its sails as black clouds recede.
9
The new windmills
nationalgeographic.com
The Netherlands' new windmills are wind turbines. Their number hasn't quite equalled 9,000 (yet): in 2013 the Netherlands had some 2,000 wind turbines of which 228 were situated off shore. Some 4% of Dutch electricity is now generated by wind power.
We'd love to hear your comments
---