travelandleisure.com
Candle light dinner in a beautiful restaurant will be the dreamiest date for a romantic couple. What if it occurred to be in a cave restaurant with an astonishingly amazing view from a vertical cliffs along seaside?
grottapalazzese.it
Well there is one perfect place and it's the Grotta Palazzese Summer Restaurant and it's located in a hotel by the same name.
beyondwords.life
This restaurant is in the limestone cave in the town of Polignano a Mare situated in Southern Italy alongside the Adriatic sea with a view of vertical cliffs and the blue sea.
static.boredpanda.com
A unique environment, where marine spontaneity lends to welcome you on a natural bridge with tables that blend into a harmonious decor as the sun and moon.
grottapalazzese.it
The restaurant is open in the summer. As they take in the sea view they can enjoy dishes such as Thai Squid and grilled prawns with glasses of Fiano di Avellino at more than $100 per head.
uk-europe.co.nz
The cavern extends back beyond the restaurant, which has just a handful of tables to keep the atmosphere intimate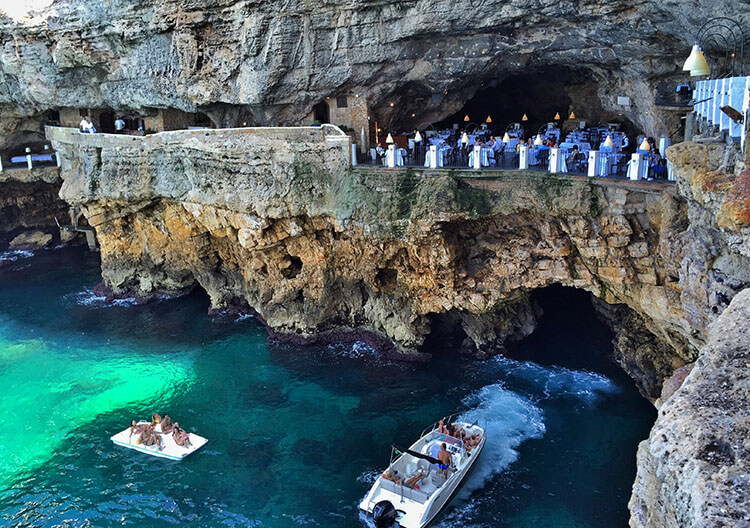 luxeadventuretraveler.com
There's a fixed menu which is can plan to spend around $100 per person or you can also order a la carte. If you're set on dining at Grotta Palazzese's cave restaurant, another great reason to opt for lunch is that you choose a la carte and eat lighter. The menu is the same for both lunch and dinner and the average price per item, including appetizers, is around €33.
luxeadventuretraveler.com
Just shut up and take the money!
---